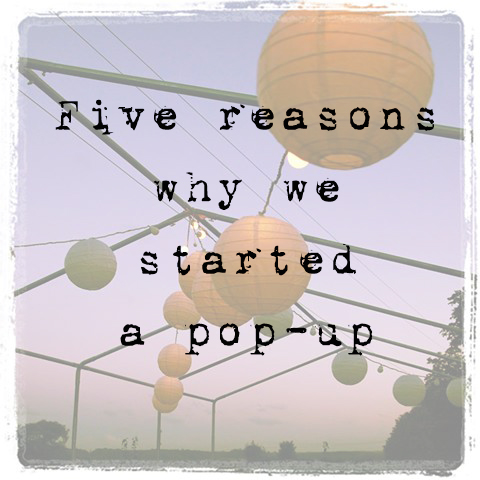 Ed and I didn't always know we were going to go down the pop-up route, in fact originally we had our hearts set on a little premises by the sea, so why did we go mobile?
1. Personal personalities
Once Ed and I had decided to go back into the food industry we got really excited, that was until I started to think about the reality of owning a permanent premises. I started getting nervous, anxious and a little bit sweaty at the thought of it. Ed and I both like travelling, we like being on the road and going to new places, a permanent premises would have jarred with our personalities and we probably would have ended up resenting it eventually. I also think that to make a business work it does have to be an extension of your personality and something that you are really passionate about. Ed and I are both passionate about food, travelling and meeting new people and what better way to combine all of these things.
2. What is going to happen to the high street?
As a teen at college I worked in Woolworths and I never imagined that it would ever disappear from our high street, but in the last few years we have lost some of the big names on the high street. People are looking online, going back to sourcing products from artisans and buying their vegetables and meat from farmers markets. This is another reason why getting a fixed premises in a town centre worried me, I started asking myself is it a safe bet? Would we be able to future proof ourselves? The beauty of a pop-up is if we go to an event or a village and things are slow then we pack up our trailer and we move onto the next place. You might lose a day wages and the cost of a pitch but this is a lot less than if your fixed premises doesn't work out.
3. Money
Which brings me onto the important subject of money. Ultimately we couldn't afford the set up costs of a permanent premises but we didn't have the patience to wait until we could save enough. We were too hungry to work for ourselves and get out of the office. We had both reached the grand old mile stone of 30 and we didn't want to look back at our lives at the age of 50 and say: "I wish I had…… if only I'd had the money." So we had to come up with a solution.
4. We want to bring food to people
With our 'Village Restaurant' events we thought that it would be exciting to take our food to people in their own communities. Ed and I are both from big families and there is something about sitting down and eating together that brings people together. It gives you that time to communicate with one another, to take time out of your busy schedule to sit and chat about your day. We want people to use our events to get together with people that they might not have seen in a while and catch up, enjoy some fabulous home cooked favourites and be merry.The two events that we did before Christmas had this vibe and it was wonderful to watch.
5. Transformation
There have been a couple of people that have turned their noses up when I have told them that we pop-up in village halls. They think cold drafty places and Brownie groups, but what I see it potential. To me a village hall is a blank canvas right in the heart of a community, the prime restaurant location. Ed and I are both quite artistic people and we knew in our minds that we could make almost anywhere look like a rustic, bistro style restaurant, all we needed was a Pinterest board and the right equipment. We carefully sourced our tables, chairs, table decorations, lights and music and hey presto one village hall, becomes a stylish restaurant. There is something in my personality that likes to back the under dog, to challenge people to look beyond what they see on the surface and suspend reality for a little while, also why should it be only cities like London and Oxford that get to have all the fun?
If you would like to suspend reality with us for a little while and come along to one of our 'Village Restaurant' events, then visit the Bookings page.