This is where it all started for The Wandering Kitchen, wandering is in our bones!! We have our own street food wagon as well as a wonderful collective of independent street food traders that we can call on when we need to with our sister company, The Wandering Feast. Sometimes we feel a little bit like street food super heroes, you call us, we put out the signal and we find you a delicious street food solution for your event.
The Wandering Lodge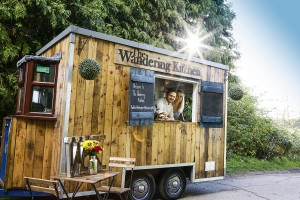 The Wandering Lodge is our street food wagon and was once upon a time a double glazing sales trailer. Found on a farm in North Oxford and carefully restored by us with pallet from Oxford Wood Recycling. The vision to sell game from a food truck that looked like a hunting lodge. The Wandering Lodge now serves up gourmet game burgers with delicious trimmings. 
The Wandering Feast
The Wandering Feast is a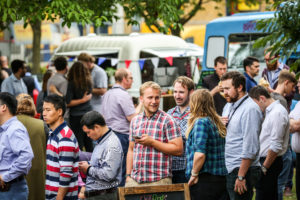 collective of local street food traders that we have put together to represent the amazing food that is available in the world of street food. We have hand picked our traders carefully and we only work with companies that care about the food they are producing. We look for:
Fantastic food, mainly home made and made with love
Interesting and visually pleasing set ups
5* food hygiene ratings
Locally sourced products and ethical packaging
Lovely people who like being part of an awesome collective 
Every week The Wandering Kitchen and The Wandering Feast assemble on three business parks in South Oxfordshire: Milton Park, Harwell Campus and Abingdon Business Park, to sell our delicious home made street food. On each site you will find a fantastic selection of street food from around the world. The Wandering Feast is currently closed due to COVID-19, please visit The Wandering Feast website to find out when we are trading again.
To book one of our trailers or The Wandering Feast for your wedding or event please contact us