We love our new Wandering Kitchen logo, but you might be sat there wondering what it all means. Why the hare, the staff and the bird? What has that got to do with food?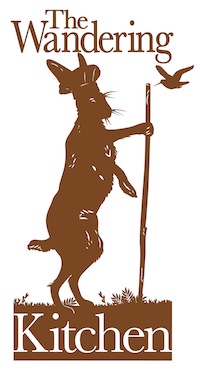 Well really it is a visual representation of everything that the business means to Ed and I.
First of all the name, why The Wandering Kitchen? Obviously because we are a pop-up kitchen and restaurant we are wandering, but Ed and I are wanderers too. We both travelled about a lot in our twenties and tried different jobs. We realised that our love always came back to the world of catering but a fixed restaurant would not have suited us and so the name The Wandering Kitchen was born.
The visual parts of the logo are the hare, the walking staff and the woodcock bird and all these have been carefully thought about. The hare represents Ed as a chef. He is a hare because we will be using a lot of game in our menus. Ed loves working with game and thinks that it is a really underused meat and wants to show people how good it can be.
The hare is holding a walking staff, this also represents wandering and moving around. But it also has a personal meaning. Just before Ed and I met I had a tarot card reading, one of the cards that I picked was the King of Wands and this character carries a wooden staff. I was told that this character would become an important part of my business. When we were on holiday in France my uncle gave Ed a homemade wooden walking stick and it was a massive sign for me that Ed and I were meant to go into business together.
The last element of the logo is the woodcock bird, again this is game but it is also my surname, so represents me! My role in the business is marketing, event organisation and customer service. Having very good customer service is just as important to us as the quality of our food, so it had to make it into the logo.
Last but no means least I thought I would mention the strapline/quote we are using: "Not all who wander are lost." This is a quote by J.R.R Tolkien from Lord of the Rings, it resonated with me when I saw it because it rang so true. Now that Ed and I have The Wandering Kitchen in our lives we are no longer wandering aimlessly, we are wandering with intent.