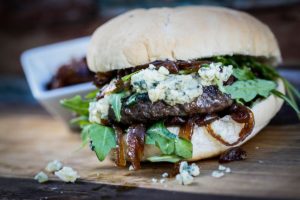 The Wandering Kitchen at Wet 'n' Wild is our café on the lake near Wallingford in Oxfordshire. When we first visited the location at Queenford Lakes we knew instantly that this is where we should be. Although we like wandering we also knew that the lake satisfied our need for fun and adventure. There are two other businesses that share the site with us: Oxford Wet n Wild aqua park and Oxford Wakeboard and Ski club. They are both so much fun for all and it just felt like something that we wanted to be involved with.
Due to COVID-19 the inside of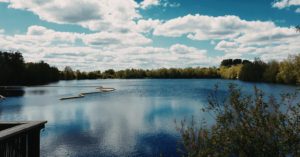 our café is currently closed (and will remain closed for the summer) but we have a delicious take away menu on offer, including hot drinks, ice creams and cakes. Inside the café you will also find speciality barista coffee, cakes, home made sausage rolls and other goodies. Due to COVID-19 we ask customers to sanitise their hands before entering the shop, wear a face covering and follow the one-way system and observe the floor markings.
Our food menu can be downloaded here.
We are also open and serve food during all four of the Queenford Lake Open Water Swimming sessions and we have bacon rolls and sausage baps available on Wednesday and Sunday mornings and burgers on Monday and Thursday evenings.
Frequently asked questions
Can I eat my food outside by the lake?
Yes you are welcome to sit outside and eat food purchased from The Wandering Kitchen on our outdoor tables but please keep 2m distance from other groups of people. We will not be opening any indoor seating at the moment, as we are not able to meet the Government guidelines at this time. We do not allow people to bring their own picnics to the lake.
Can I walk around the lake?
As a purchasing customer of The Wandering Kitchen you will be entitled to buy a visitors pass to walk around the lake. They are £3 per person or £5 for a family of 2 adults and 2 children. You must have a pass to do the walk around the lake and they can be purchased in the shop.
Can I bring my dog?
Dogs are welcome at the lake but they must be kept on a lead at all times and all dog mess must be picked up and taken with you. Dogs are not allowed in the water.
Can I swim in the lake?
We can't wait to see you at the lake!
If you have any questions not covered in the FAQs please
contact us
.