The Wandering Kitchen at the Lake is our café near Wallingford in Oxfordshire. When we first visited the location at Queenford Lakes we knew instantly that this is where we should be. Although we like wandering we also knew that the lake satisfied our need for fun and adventure. There are two other businesses that share the site with us: Oxford Wet n Wild aqua park and Oxford Wakeboard and Ski club. They are both so much fun for all and it just felt like something that we wanted to be involved with.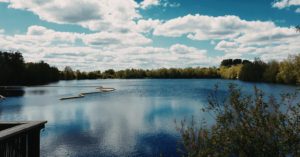 Covid Update
From the 12th April we will be opening up our tables outside and you can eat your take away food outside by the lake. Please see the opening times below:
As we are still under Government restrictions you can only come to the lake in groups of up to 6 or as two house holds and get take away food and drink to enjoy on our tables or enjoy a walk around the lake (see more below about the walk).
Please come into the café to order (wearing a mask) and then follow the one way system out to the food collection point and we will bring your food and drink outside to you. In the evenings you can either continue to call for takeaway after 4pm on the day you would like your food (01865 343568) or come and sit for an evening meal outside (still all takeaway style). If you are coming to the lake on Monday evening as part of outdoor swimming session, you do not need to call and pre-order, please come and order after your swim session. Please visit the menus page to find out more about what food we will be serving.
We hope to re-open weekday daytimes from the 17th May, subject to the Government roadmap.
The Walk around the Lake
The walk around the lake and the animal hunt will be open Friday, Saturday and Sunday from the 29th March, the opening times for the walk are below. Please come into the café to purchase a pass for the walk before heading off around the lake. Passes are £5 per family and refunded when you spend over £10 in the café.
Opening times from 29th March – 17th May
Monday: 5pm – 9pm
Tuesday: Closed
Wednesday: 6:30am-9:30am
Thursday: 5pm – 9pm
Friday: 10am – 9pm (walk open 10am – 5pm)
Saturday: 10am – 9pm (walk open 10am – 5pm)
Sunday: 6:30am – 4pm (walk open 10am – 3pm)
Rules for the lake
Dogs are welcome but please keep them on a lead at all times
Please do not allow children or dogs into the water
Please don't throw sticks into the water
Take all rubbish and dog poop with you
Be aware that there are speedboats in operation at all times
We look forward to seeing you at the lake.