*Our kitchen is closed from the 31st July until 7th August due to lack of staff. We will still be serving coffee, cake, ice cream and snacks during this time but no hot food. Our kitchen re-opens Sunday 8th August.*
The Wandering Kitchen at the Lake is our café near Wallingford in Oxfordshire. When we first visited the location at Queenford Lakes we knew instantly that this is where we should be. Although we like wandering we also knew that the lake satisfied our need for fun and adventure. There are two other businesses that share the site with us: Oxford Wet n Wild aqua park and Oxford Wakeboard and Ski club.  They are both so much fun for all and it just felt like something that we wanted to be involved with.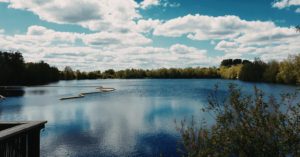 Our indoor seating is now open and you can sit inside the café in groups of up to 6 or two households, please check in using the covid app and continue to wear your masks inside when not sat down. Outside we can allow up to groups of 30.
Please visit the menus page to find out more about what food we will be serving.
From the 1st June onwards we will no longer be taking takeaway orders over the phone but you are welcome to come down and order takeaway. We will be closing a little earlier at 7pm on Friday and Saturdays.
Over the summer our ice cream van, Diana, is open by the lake selling Q Gardens homemade ice cream. (Open daily over May half term and at weekends for the rest of June)
*Please note that we use all 14 allergens in our kitchen and front of house and therefore we can not guarantee that any of the food and drink we make is allergen free and therefore not suitable for severe allergies*
The Walk around the Lake
The walk around the lake and the animal hunt will be open everyday from 17th May. Please come into the café to purchase a pass for the walk before heading off around the lake. Passes are £5 per family and refunded when you spend over £10 in the café.  
Opening times from 1st June onwards
Monday: 10am – 9pm
Tuesday: 10am – 4pm
Wednesday: 6:30am – 4pm
Thursday: 10am – 9pm
Friday: 10am – 7pm 
Saturday: 10am – 7pm 
Sunday: 6:30am – 5.30pm 
Rules for the lake
Dogs are welcome but please keep them on a lead at all times
Please do not allow children or dogs into the water
Please don't throw sticks into the water
Take all rubbish and dog poop with you
Be aware that there are speedboats in operation at all times
We look forward to seeing you at the lake.