The Wandering Kitchen at the Lake is our café near Wallingford in Oxfordshire. When we first visited the location at Queenford Lakes we knew instantly that this is where we should be. Although we like wandering we also knew that the lake satisfied our need for fun and adventure. There are two other businesses that share the site with us: Oxford Wet n Wild aqua park and Oxford Wakeboard and Ski club.  They are both so much fun for all and it just felt like something that we wanted to be involved with.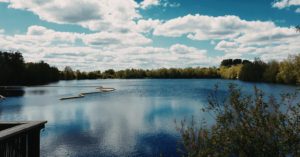 Please visit the menus page to find out more about what food we will be serving.
*Please note that we use all 14 allergens in our kitchen and front of house and therefore we can not guarantee that any of the food and drink we make is allergen free and therefore not suitable for severe allergies*
The Walk around the Lake & Animal Trail
Wandering Kitchen customers are welcome to walk around the lake and take part in our animal trail. We have hidden nine animals on the walk, the animals are holding letters, find all the letters to spell a word, find the word and win a prize.
Anyone doing the walk must have a visitor's pass & lanyard. These are available inside the café, along with the animal trail sheets. Passes are free if you spend over £10 in the café. If you eat and drink first please ask for a visitor's pass when you are ordering, if you are walking first we ask for a £5 deposit to do the walk and you will receive this back when you spend over £10 in the café.
The walk is approximately 2.5 km and is flat, it can get a bit muddy as some of it is on grass, so we recommend wellies for the little ones. It is buggy friendly but if it has rained it can get muddy. Dogs are welcome but please read the rules below:
Rules for the lake
Dogs are welcome but please keep them on a lead at all times
Please do not allow children or dogs into the water
Please don't throw sticks into the water
Take all rubbish and dog poop with you
Be aware that there are speedboats in operation at all times
We look forward to seeing you at the lake.