Salary: £12.50 an hour
Responsible to: General Manager
Responsible for: Outdoor catering team (approx 6 people)
Working with: Cafe team, Wet n Wild team, office manager
Hours: Full time, 45 hours per week on a rota, including weekends on a rota, we would consider 2 x part time roles for the right candidates.
Contract: Temporary contract from June – end of August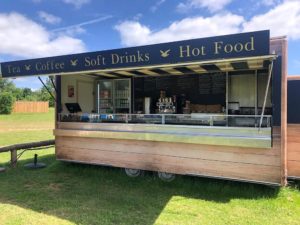 At The Wandering Kitchen we run a café on a beautiful lake in South Oxfordshire. We pride ourselves on the food and drink that we produce, we source ingredients locally and make everything from scratch. We love our customers, those that are involved in the water sports and those who come to the lake for our food and atmosphere. We are passionate about providing a warm and inviting atmosphere for all our customers, excellent food and friendly homely customer service.
In the summer we open up our catering trailers (hot food and ice cream van) as an overflow to the café in line with the opening of the Oxford Wet n Wild aqua park.
Person specification
Experience of managing a team or project independently
Customer service experience
Positive attitude
Ability to work under pressure and in busy situations
Creative, able to come up with solutions to problems
Barista trained
Responsibilities
Take full responsibility of the running of both outdoor catering trailers, including offering excellent customer service
Managing party bookings along side the office manager and the Oxford Wet n Wild team
Managing corporate bookings e.g. team building days
Ensure adherence to effective security procedures, including opening and closing procedures
Ensure that accurate cashing up and cleaning procedures are carried out at end of a shift
Maintain effective stock control, storage and rotation to minimise wastage.
Work to required hygiene standards and to allergen regulations
Ensure that all financial procedures are carried out correctly.
Manage the outdoor catering team, ensuring they work to the expected standards at all times.
Train staff in preparing drinks and coffees to the consistently high standard required.
Working with the office manager to make sure that staff rotas are correct
Set a high standard and good example for all staff with regard to punctuality, attendance and attitude and ensure these standards are maintained at all times.
Set a high standard and good example for all staff with regard to cleanliness and hygiene to be maintained at all times including a regular deep clean schedule.
Participate in regular staff meetings and training as and when required.
Carry out any other duties within the scope, spirit and purpose of the post as reasonably requested.
To apply please send your CV with a cover letter outlining how you meet the person specification to hello@thewanderingkitchen.co.uk closing date Friday 2nd June.