Congratulations on booking your party at Oxford Wet n Wild, a birthday party on the aqua park is so much fun!! After expelling all that energy on the obstacles the children are bound to be hungry, so let us help you to order your party food.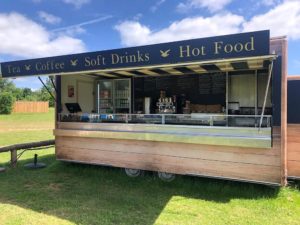 Please follow these steps:
Send it to everyone in your group and get their main menu choices and allergen information. (Drinks and puddings can be decided on the day).
Fill in the order form below. Please make sure you do this at least 7 days before the party to guarantee menu choices.
On the day of the party when you arrive at Oxford Wet n Wild please come to The Wandering Kitchen outside catering trailer (pictured above and you will find it on the grass outside Oxford Wet n Wild). Please come and find us before the children go on the water or whilst the children are on the water, so we can check over your menu choices and allergen information and so we will tell you which party table you will be sitting on after your session.