This is where it all started for The Wandering Kitchen, wandering is in our bones!! We have our own street food wagon called The Wandering Lodge and our own ice cream and coffee van, called Diana. Our vans are now parked up for the winter and will be out again in Spring 2021.
The Wandering Lodge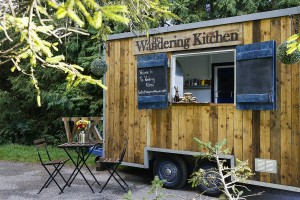 The Wandering Lodge is our street food wagon and was once upon a time a double glazing sales trailer. Found on a farm in North Oxford and carefully restored by us with pallet from Oxford Wood Recycling. The vision to sell game from a food truck that looked like a hunting lodge. The Wandering Lodge now serves up gourmet game burgers with delicious trimmings. 
Diana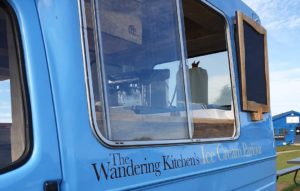 Diana is our coffee and ice cream van. She is called Diana as a homage to the lovely lady who sold her to us. We have given her a bit of a make over and installed a coffee machine and added some carpentry work, thanks to Nick at 3d Wood. It really wouldn't be us without cladding it with wood!